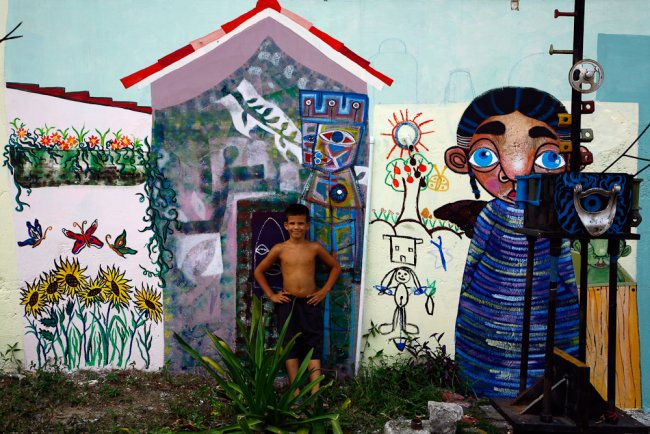 Etsy says they're just following the law but in effect starving children and a community of much needed funds for Proyecto Muraleando. This grassroots community placemaking initiative provides hundreds of children in inner-city Havana the opportunity to unleash the creative, and live with dignity and hope, surrounded by murals and inspiration. I had the pleasure of working with this project as a visiting artist earlier this year. 
When I posted an item for sale on American owned Etsy to fundraise, I received the following email in my inbox telling me my listing has been removed. I reposted my listing without the mention of Cuba and hope it doesn't get deactivated…
"Hi there,
This is Patricia from Etsy's Legal team. I'm getting in touch to let you know that Etsy has removed one or more listings from your shop in accordance with our Prohibited Items Policy.
In accordance with US law, Etsy prohibits transactions that pose a risk of violating sanctions. This includes, but is not limited to, fundraiser listings or campaigns that run an unreasonable risk of violating the US sanctions against Cuba." [emphasis added]
This should be proof enough that the illegal US embargo on Cuba is alive and well despite Obama's lifting of travel restrictions for US citizens. The embargo is the blatant suffocation of a nation that refused to abide by imperial control of its borders. That revolted to make post-colonial independence a truth, not be a false reality like much of Latin America. It is a feat the Cuban people have much to be proud of. On the ground this means scarcity of basic resources including food let alone art supplies. The children I taught at Proyecto Muraleando had never painted in their lives, held a musical instrument or had a neighbourhood they were truly proud to call home.
Please see more and give to my GoFundMe campaign and help me keep my promise to the 300+ children the project supports in inner-city Havana. No donation is too small! Or buy an original piece of artwork by yours truly, a pin that stands for beauty, unity and hope at my reposted Etsy listing.  I ship worldwide. Without your help, this beautiful project will cease to exist.
Watch this video and see inside the real Cuba and the threats it faces in this time of change: